Jones Day Dallas
For video click on photo above
Delighted to be working again with Jones Day, one of the largest and highest quality law firms in the world, on a new project for their Dallas Office and the Dallas Regional Chamber. Jones Day is one of my favorite clients as I have been working with them for over 25 years.
It's hard not to be impressed with the infectious enthusiasm people in Dallas have for their city. It is all the more impressive when the Partner-in-Charge of Jones Day's Dallas office tells you about Dallas' many opportunities. But, when she is joined in this intense civic devotion by four of the nation's top CEOs, the result is pretty powerful. 
On this project, through the generosity and commitment of both Jones Day and the Dallas Regional Chamber, we were lucky enough to interview, Hilda Galvan, the Partner-in-Charge of Jones Day Dallas and the incoming Chair of the Dallas Regional Chamber, as well as Doug Parker, CEO of American Airlines; Jim Lentz, CEO of Toyota Motor North America; David Seaton, Chairman and CEO of Fluor Corporation; and Randall Stephenson, CEO of AT&T.
The result (linked above) is a powerful statement of the business opportunities fostered by the Dallas environment. Randall Stephenson explains, "This is a city that is centered around commerce. Business is just at the core of what everybody in this city is about. They're entrepreneurial, high energy, and when you move here the business community adopts you."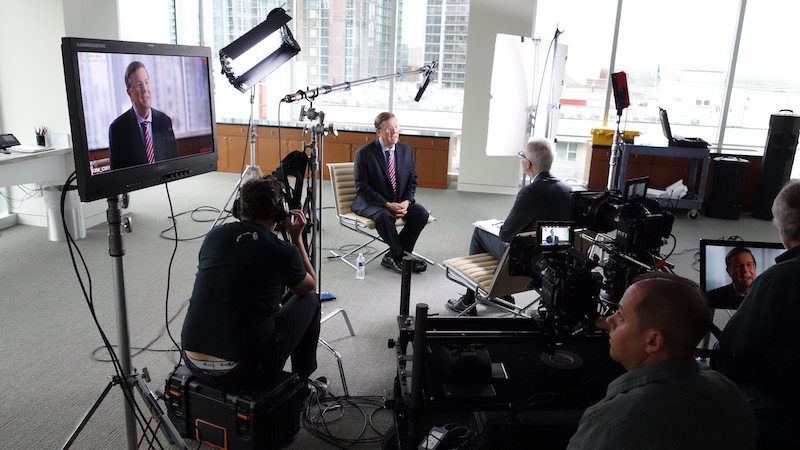 Jim Lentz CEO Toyota Motor North America  (above) and Doug Parker Chairman and CEO American Airlines (below)
Above – David Seaton, Chairman and CEO of Fluor Corporation (one of the world's leading and largest engineering, procurement, construction and maintenance services companies).
Hilda Galvan, Partner-in-Charge, Jones Day Dallas (above) and Randall Stephenson Chairman and CEO of AT&T (below)
The program will be used for the Dallas Regional Chamber's Annual Meeting and will explain why all these companies chose Dallas as the place to headquarter their companies. Directors of Photography for this project were James Burgess of Eye Magic and Steadicam Operator, Bobby. Production stills by Jeff Hamm. 
The Jones Day Dallas office is architecturally gorgeous with elegant recessed ceiling lights, sophisticated artwork and great views of the downtown area.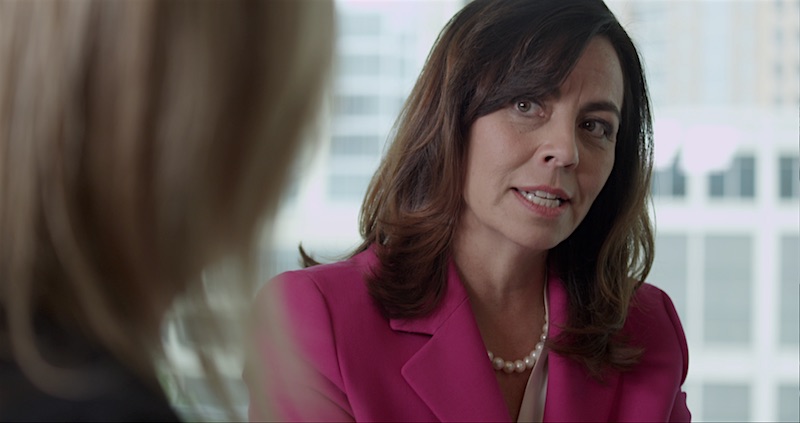 Hilda Galvan is the Partner-in-Charge and she is featured in another Jones Day story directed by TELOS, on the Pro Bono project: Women & Children Seeking Asylum. The story describes a massive project the Firm undertook to aid recent immigrants fleeing gang violence in Central America for which the American Bar Association recognized Jones Day with its 2015 Pro Bono Publico Award.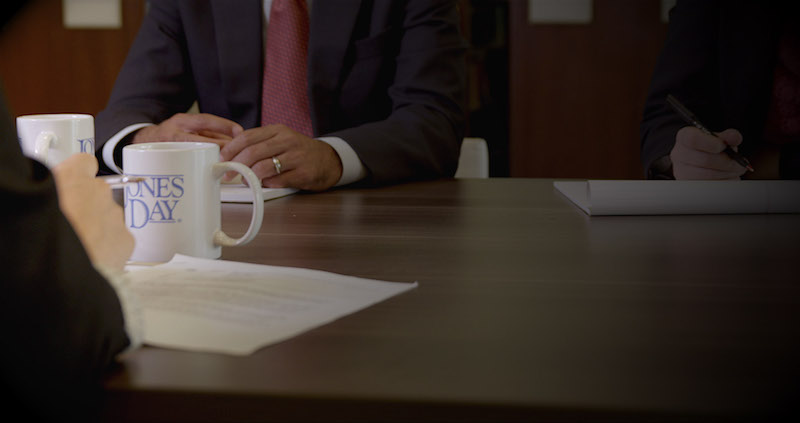 Jones Day opened their Dallas office thirty years ago as part of their domestic office nationwide expansion. Today, with over 125 attorneys, the Dallas office is one of the largest in the city.